Dr. Ragini Porwal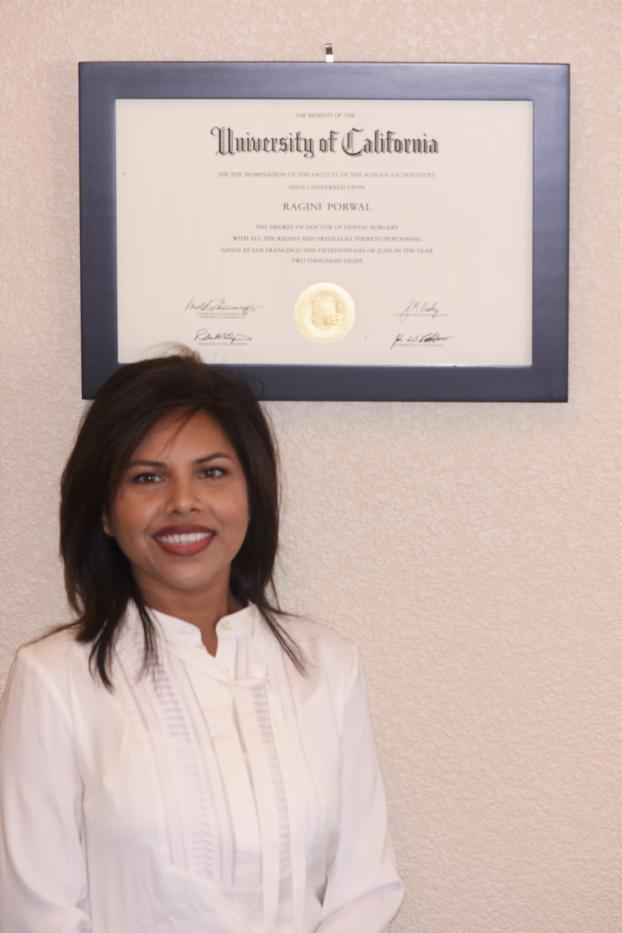 Dr. Porwal has over 20 years of experience practicing dentistry. She graduated from the prestigious UCSF School of Dentistry at the top of her class, with honors. She also holds a Bachelors Degree in Dentistry which she attained in 1998. Her artistic inclination and her focus on detail while keeping the end goal in mind makes her an excellent clinician and a quality dentist. She is part of many leading study clubs and believes strongly in the power of continuing education. She keeps up with latest in technology, materials, and research and continually updates her practice.
Modern, Warm and Inviting Office
Dr. Porwal's practice is fully digitized and paperless. Her office has the latest state-of-the-art equipment including the best methods of sterilization. The friendly staff specializes in assisting all patients including those with special needs. Dr. Porwal's office is a private family practice. She and her team take great pride in their work. Their mission is to provide comfort, quality service, and to build trust while achieving a high level of oral health care.
Education
Dr. Porwal received her D.D.S. from the University of California School of Dentistry, San Francisco (UCSF), one of the most reputed in the country, graduating at the top of her class.
Certifications
Ragini Porwal received her D.D.S. at University of California School of Dentistry. Comprehensive Orthodontic Training & Certification (Manhattan Beach, CA), Invisalign Certification, CEREC (CAD/ CAM) Workshop & Certification, Mini-residency for Dental Implants at Hiossen and Osstem Implant System, Burlingame, CA, and countless hours of continuing education including advanced Endodontic, Occlusion, TMJ and Bone Grafting trainings.
Research
Dr. Porwal has been involved with research initiatives with AAOMS and has presented her findings in several dental seminars including her presentations on Hemi Maxillofacial Dysplasia (HMD) that have been published in Journal of Craniofacial Surgery.
Professional Affiliations
Dr. Porwal is a member of the American Dental Association (ADA), California Dental Association (CDA), Academy of General Dentistry (AGD), San Francisco Dental Society (SFDS) and Alumni – UCSF School of Dentistry.