Veneers are these thin, wafer-like prostheses that work like magic. For people who have always been bothered by the shape, color, alignment, and length of their teeth, having veneers could be the perfect solution. Those who accidentally chipped or cracked their teeth can consider it as well. Veneers can make the smile appear more pleasing since they will serve as the cover to hide teeth imperfections and correct damage.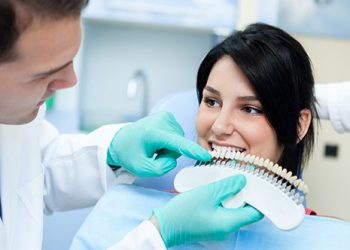 Aside from being one of the most popular options for smile enhancement, veneers also have some added benefits that people may not even know. At Comfort Dental Care, we will be sharing the following to encourage our patients to consider veneers for we know their potential. With that said, here are facts we prepared about veneers!
Reshaping
For patients who are aiming to improve the look of their smile with veneers may not realize it, but the prostheses actually change one's facial features. Depending on the needs and preference of patients, the dentist can emphasize the cheekbones, make the face look more symmetrical, as well as, alter the wideness of the smile.
Various Options
Veneers are usually made from porcelain and composite resin since they can resemble the color of the natural teeth closely. There are now multiple brands of veneers that are sure to live up to the expectation of patients. At Comfort Dental Care, aside from offering the traditional options, we also provide a brand of veneer that required little to no tooth shavings to be placed.
Eliminates Sensitivity
The typical reasons for heightened teeth sensitivity are the wear of the enamel and exposure of the roots. Not only do veneers correct flaws, but it has the added benefit of strengthening the teeth and eradicating sensitivity.
Long lasting
Although veneers are quite costly compared to dental bonding, patients are assured they can last for more years. A not so secret way of ensuring the longevity of the prostheses is to observe proper precautions, practice oral hygiene, and schedule routine visits.
Other quick facts about veneers:
Depending on the type of material used for veneers, it would require a single up to three dental visits to be completed.

There is no need for patients to be anxious or fearful during the placement of veneers since local anesthetics can be used to eliminate any discomfort during the procedure.

It is easy to have the prosthesis replaced once worn or damaged.

Veneers are custom-made for each patient to provide natural-looking outcome as much as possible.
For patients who are considering veneers to be the solution for their dental woes, we at Comfort Dental Care recommend an initial consultation for the dentist to provide treatments accordingly.
Bring out your best smile with Veneers in Discovery Bay, CA, book your appointments with Comfort Dental Care! Call us to experience outstanding results to make your teeth naturally beautiful and healthy.